Big Family, Small Home
Posted by Aaron Luttrull on Friday, March 17, 2023 at 6:00 AM
By Aaron Luttrull / March 17, 2023
Comment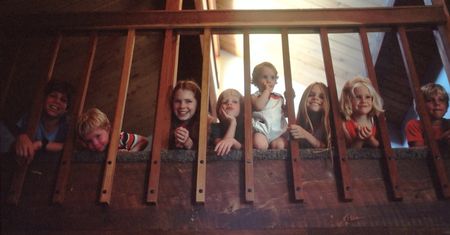 Let's face it--not every family can buy or build a new home when they need extra space, at least not right away. In fact, it may be years before they may be able to add to their home or be able to choose a larger space for one reason or another. Here are a few ways you can make that smaller space work for your large or growing family:
Plan Your Space - Whether you just moved into a smaller home or have been living there for a while, the best thing to do for you and your household is to plan how your family will use the space that you have. Larger bedrooms for larger kids, doubling up siblings at times in a room or taking a space in your home and using it for a different purpose than it was intended may be what needs to happen for your house to suit everyone and their needs. Also, while you are deciding how you are going to use the space, plan on how to make storage work for everyone as well. Plan for hidden storage as well as out-in-plain-sight storage like shelves. Use dual purpose furniture such as an ottoman that can store things and bench seating.
Prioritize Importance - You have a plan in place of what you would like to do to help your house fit your family's needs, but where do you start? It can be overwhelming if there is a lot that needs to change or be shifted. Start with the most used areas first. Everyone spends more time in the kitchen, living room and activity areas of the house than where they sleep at night, so make those spots more comfortable and functional first. Of course, if you have an infant or a small toddler that sleeps more than everyone else, maybe their bedrooms need to be made peaceful and functional first. Consider every person in your household and how they may use the space and decorate or update accordingly. You may have smaller children that need a place to play and call their own, so that you can focus on other areas of the house as well, so maybe your semi-used dining room should become a play area for the kids while they are small. Using that space for a different reason may not only keep your kids happy but help keep you sane while you are trying to make the rest of your home more functional. Another thing to consider when you are choosing where to start is whether you or your partner works remotely. Maybe getting that office ready is most important. Only you know what your household needs, so prioritize accordingly.
Be Purposeful - Every furniture item or piece of decor needs to serve a purpose. As I stated before, dual purpose items are a great way to maximize the space you have. Furniture that has storage, decor that not only makes a place feel like home, but also helps you family function better is important. If you don't have a linen closet and you need something to store extra blankets and sheets in, maybe a beautifully painted armoire at the end of a hallway will help with that. Keeping a small laundry basket in your kids closets or somewhere in their room, may be what you need to help keep clothes off the floor and make it easier for laundry to be done. Make sure every spot is used in a purposeful way. Don't waste space, because a small house doesn't have a lot of places for frivolous stuff if you want it to function well for your family and still look good too.
Personalize - Pick things that will work for you and your family. Maybe cubbies in a laundry room will help organize whose clothes goes where when they are folded, or maybe a mudroom has lockers for each family member to dump their stuff when they come home. What may work for one family, may not work for yours so do what you need to do so that each person in your household feels at home, comfortable and safe. Colors and textures can help with that as well. It might be all that someone needs is a simple shelf to keep their things on, or they may just want something in their room a certain color, so they feel comfortable. When each person has something of their own in a home, it makes them feel like they belong as well.
There are so many ways you can make a small space work for a larger family, it may just take some trial and error until you find what is best for your household. Showing respect and care for each person's needs will also help them to be patient if they have to wait for things to work perfectly for them. You may be surprised at how considerate your family will be with each other if you are considerate of each of their needs and wants.
This blog was inspired by an articel in the April/May 2022 issue of Cottages & Bungalows magazine.
Photo Credit: National Cancer Institute